ABOUT US
True Partners Committed to
Changing the Future
WHO WE ARE
We see ourselves as allies, not consultants.
C5MI is a services firm comprised of trusted business practitioners with deep knowledge and first-hand experience managing world-class business processes. We implement cutting edge technology solutions for manufacturers and supply chains globally.
C5MI Purpose: Unleash business potential by converging people, process, and technology.  By doing this, we reduce waste, drive productivity, improve lives, and ensure sustainability.

We are the only firm that offers companies looking to improve their business processes the full package: process excellence advisory and full-scale technological implementation from a trusted journey partner. We will save you money first by making processes more efficient and effective; then we will help improve your business operations through investments in technology, further increasing efficiencies, always working alongside you throughout the journey. Let's challenge the present and change the future – together.
Aerospace
Automotive
Chemicals
Consumer Products
Defense and Security
Engineering and Construction
High Tech
Industrial Manufacturing
Life Sciences
Mill Products and Mining
Oil & Gas
Professional Services
Public Sector
Retail
Travel and Transportation
Utilities
Wholesale and Distribution
EXPERIENCE MATTERS
Our Leadership Team
Fueled by Core Values – Live the CHANGE
C

hallenge!

We believe in challenging the present – it's the only way to shape the future. We must be exceptional communicators and collaborators while always learning. We also understand that speaking your mind requires equal parts brain (what to say), thoughtfulness (when to say it), and caring (how it's said). Incremental won't win.
H

ave Fun!

We are on a journey, together. Take care of each other. Life isn't all about work. Live your happiness. Be healthy.
A

ll In!

You can't fake passion – show your energy. Own it – it is a shared responsibility. Our team is made up of top quartile talent and we never accept second best and we remain focused on creating an environment to realize the team's true potential.
N

ever Screw The Customer!

We have walked a mile in your shoes. Experience matters. Be true – no BS. Delighted Customer > Team > Individual.
G

SD!

We take the initiative. Winners don't make excuses. We act with urgency. We are aligned to the process, always improving and audit ready. We take accountability, relentlessly execute, and swarm challenges while planning for tomorrow. That is how we win!
E

nvironmental / Sustainability Stewardship!

Evangelists and practitioners of efficiency, who lead awareness and adoption of environmental and sustainability best practices by merging people, process, and technology.
With our longstanding relationship as a premier SAP partner, C5MI has proven our place as the partner of choice for SAP digital supply chain solution implementations and thought leadership. Having been responsible for 80+ implementations with commercial and government partners including fortune 50 companies, we have the hands-on experience to support your business challenges through SAP capabilities.
Since C5MI was founded we strive to become experts in the software capabilities that are driving innovation and successful digital transformations and ServiceNow is at the top of this list. With expertise in private and public sectors, C5MI has trained and certified consultants as a successful ServiceNow Partner. Supply chain and manufacturing companies can drive forward their digital transformation goals through various ServiceNow tools. Through C5MI's extensive team of passionate experts in delivering innovation, we can support delivering success on the ServiceNow platform.
Google Cloud brings top-of-the-line secure and scalable capabilities for business growth and delivery of innovation ambitions no matter what industry you are in. C5MI has dedicated the time and effort to developing a team of certified experts to support the data and AI capabilities that Google Cloud can deliver. We are constantly investing in the latest expertise in innovation and leading capabilities to solve real business challenges.


As a firm believer in supporting commercial and government collaboration, C5MI supports NDTA as one of the premier platforms for further enhancing and supporting the United States' development of supply chain agility and resilience. Being responsible for some of the largest software deployments in the US government, we understand the need for digital transformation and the complexities that are applied to government organizations. By partnering with NDTA we hope to further drive forward a secure, efficient, and resilient government now and in the future.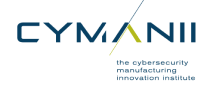 At C5MI, we recognize the importance of cybersecurity both in the private and public sectors. In today's day and age, all organizations need to stay ahead of the curve and ensure their cybersecurity practices are up to date and able to handle the threats continuously coming their way. CyManII recognizes this importance and is the premier organization in driving best practices forward. As a member, we aim to leverage our unique industry experience to further enhance and bridge best practices to our customers.
Industry partnerships are one of the most important ways to further drive manufacturing efficiencies. As environmental and sustainability stewardship is one of our core values and service lines, we understand the significant impact driving efficiencies in manufacturing can have on the environment. By partnering with like-minded global organizations that are a part of CESMII, we can further deliver on our purpose to reduce waste, drive productivity, improve lives, and ensure sustainability.
Investing in Our Community
As part of our core values, C5MI is committed to supporting the community around us. We pride ourselves in the partnerships we have developed with these organizations and their missions to deliver to those in need.
At C5MI we do everything we can to support children in need and understand the hardships families have to go through financially and emotionally when in a desperate situation. By supporting the Mitchell Thorp Foundation, we are upholding our core values and doing what is right to help make a difference today for a child who is fighting for their tomorrow.
As an SDVOSB, we recognize the sacrifice veterans and their family members have made for our country. C5MI supports Camp Freedom to provide peer to peer interaction and camaraderie combined with an outdoor adventure to bring life-saving healing to these true American Heroes. Supporting Camp Freedom literally means you are partnered in saving lives.​
CAIRS believes that "Caring for refugees is a human obligation" and C5MI could not agree more. By supporting CAIRS, we are helping bring refugees into a caring society that will help them find employment and become neighbors and friends.
"Mitchell Thorp Foundation is so grateful for C5MI financial support for our children who are suffering from life-threatening illnesses, diseases, and disorders. You have helped us make a bigger impact as we have increased the number of families and children, we assisted by 45% this past year."… "Your support helps us accomplish our purpose to make a difference today for children who are fighting for their tomorrows, while bringing hope, relief, and transforming lives."
BRAD & BETH THORP - CO-FOUNDERS, CEO/EXECUTIVE DIRECTOR